Digital Techonologies are moving fast. Hotels must learn and respond accordingly. Given that no single hotel can win all markets, what can you do to ensure that you continue to grow in your sector? What tools have been found to be useful in digital marketing? And how is programmatic marketing and programmatic media in general reshaping digital media today? Let's here it from our experts. If you are a hotelier, now is the time to call your marketing team into the room so that you can all read through this conversation together.
In this conversation we are joined by;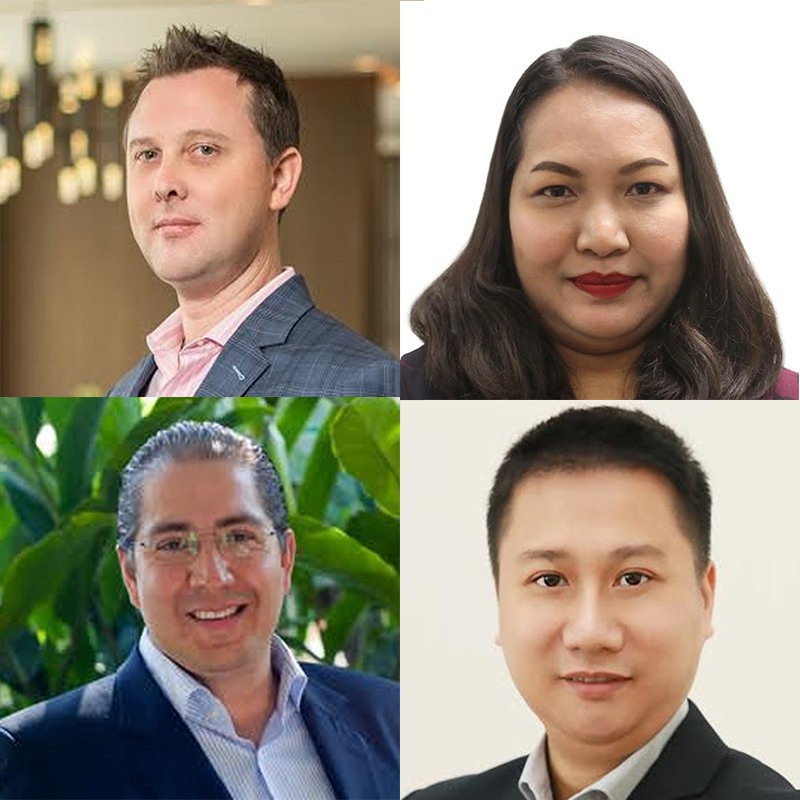 Benjamin Krieg: Area General Manager, AccorHotels Thailand, General Manager Novotel Bangkok Sukhumvit 20;
Chutima Fuangkham: Senior Director, Digital Marketing, ONYX Hospitality Group;
Marcos Cadena: VP of Digital, Ecommerce and Electronic Distribution, Minor Hotels;
Tom - Nguyen Truong Tung: Managing Director at Syndacast Thailand;
What are the common mistakes that you see in digital marketing today?
Benjamin Krieg (BK): Today I feel too many people think by simply posting and reviewing social media and having their site SEO optimized when built, or creating an app for their business means they are ticking the digital marketing box
There are too many examples where some businesses maybe would be better off not doing anything compared to what they are doing. What they're doing is poorly executed with no underlying strategy. It's badly worded, they use poor grammar & spelling and send out constant click bait. On top of that, along with what I think is worst of all - bad images / photography / video.
Mostly I see lack of direction and / or an underlying strategy from many businesses, and / or the belief of a set and forget mentality. In fact if you're not looking at it daily / weekly / monthly against key metrics and analytics and then constantly reviewing and realigning strategies accordingly you're probably wasting your time, or throwing your money down the drain.
Chutima Fuangkham (CF): Many digital marketing messages these days tend to focus directly on driving performance and return on investment, with the creation and connection of user needs vs brand experiences often taking a back seat or even being forgotten. It is equally important that digital marketing messages work towards enhancing brand love, engagement and loyalty among consumers, and that your brand is not simply perceived as the lowest priced option.
Customers who become loyal to the lowest priced options are usually not loyal to a particular brand, unless that brand is effective in communicating other reasons for them to stay loyal regardless of the price point.
Marcos Cadena (MC): Probably the biggest mistake in digital marketing is believing that your own ideas are the best and not looking what is happening out there and learning from the best players. The digital world is moving very fast and keeping your competitive advantage or first mover advantage is very difficult as technology and processes can be copied very easily. So organizations need to be always looking what is happening out there.
Tom: What we are all aware of is marketing today gets a lot more complex in channels, faster in response, and much busier with data than 10 years ago. Because of the complexity and fast-paced strategies, marketers may easily overlook the core steps to successful execution. Throughout the last decade with the explosion of social media and digital mediums, we have seen some common fail points below – these are what marketers should avoid:
Marketing actions without a clear strategy and a goal.
For example, some brands create a Facebook page without a strategy of how this page helps their audience nor their business and companies build applications that are rarely downloaded.

Integrated digital marketing campaigns which have different departments managing different channels.
This can result in the overall campaign not being smooth if it is not managed effectively. For example, mixed messaging across different channels, ineffective landing pages, not getting exposure at the right time and so on.

Since digital marketing is tracked and measurable to an extent, it is sometimes easily mistaken as sales and compared to sales activities.
A tracked ROI or tracked revenue is sometimes mistakenly applied to many channels that are not for that purpose. Marketing should be for the long term and its effect can assist sales in many channels, not just direct.

Misusing the analytics tools is also another common issue.
For example, the most frequent mistake we see is using the free Google Analytics tool to measure a marketing campaigns. Free web analytics tools and campaign tracking tools work differently and they are built for different purposes.
What are the key components for a brand to grow strong in the digital age?
BK: Clear and defined strategy;
Combination of relevant multiple platforms and mediums utilized for your business;
Well-designed mobile optimized (Preferably Progressive Web App) website ;
Regular reviews and benchmarking to key metrics;
Utilization of external experts, PPC, SEO, Overseas markets specialists (e.g. if you want to Target China, don't make a WeChat account yourself, use a professional agency and do it well);
Great imagery and photography, and constantly update it (It's easy to spot dated photography);
Working on the direction for how your business will embrace videos if you're not already;
Planning and forward direction on how to incorporate AI, Voice and AR, VR into your strategy / business ;
Always following the next trend and determining if it adds value now, later or never... do you want to be an early adopter or wait for it to mature a little, but risk being a follower;
CF: The whole organisation must think digitally with a holistic mindset. In this day and age, there is really no separation between the online world and the offline world. There is only one world, the one where our consumers are engaging, absorbing, sharing information and conversing.
In order for a brand to attain sustained strength in the digital age, marketers must think like a consumer. All marketing strategies should be integrated with a centralised database. It's also important to look at each consumer uniquely with different travel needs and intentions, rather than based on loose demographics. Only when you see each consumer uniquely, can you create a personalized on-brand experience through every single consumer touch point.
MC: Understanding that all the digital decisions and the distribution decisions are completely linked and that one decision in one segment like WHO or OTA will affect the other. Additionally, it is important to understand that a lot of the growth comes from understanding that consumers want simplicity in the entire process and that brands need to deliver a simple message and the systems need to reflect this.
T: There was a time your logo was your brand. Marketing was limited by the number of channels and communication could be made one way. Today your audience is in charge of your brand. There are many platforms for them to provide feedback regarding a brand. As a result, brands have moved from an identity to a combination of 3 elements: identity, behavior and performance.
The identity helps your brand to attract and people can easily recognize you on various platforms.

Brand behavior means how your brand can act human, authentic, cool, and transparent.

Performance means the value that you promised is always delivered.
What digital marketing tool do you see brings most the value to your business? Is SEO still relevant today?
BK: I don't believe any single tool brings the most value I think it's the combination of many that help our business, and even then in saying that there is still always room for improvement.
The three team members dedicated to Marketing at my Hotel being the Digital Marketing Manager, Marketing Manager and Marcom Exec all play very different roles. Combined with the suite of analytics tools that the two managers use, and external experts we engage with all together are our greatest tool. It can't be done by one person or one consultant, it's the culmination of many
SEO will remain as a rudimentary foundation of digital marketing... when done well. However, SEO like so many elements of digital marketing when a set and forget mentality sets in, or worse still using excessive repetition of keywords making their online copy nonsensical, are both common mistakes. I think if you're not reviewing this monthly or at least quarterly your website will continue to decline in relevance and if you're not on the first page you effectively don't exist
CF: With the growth of digital marketing technologies, it's often a struggle for a digital marketer to manage all different digital platforms. Hence, tools which effectively aggregate various data sources and campaign management platforms, and which allow customisation, personalisation, automation and integration, are becoming increasingly important.
Such tools save digital marketers valuable time as they use real time data to enhance the consumer's experience while also delivering the right genre of messages to the right audiences.
As long as people are using search engines, SEO will always be relevant. SEO has been around for decades and has become such a fundamental discipline that digital marketers don't even talk much about it these days, simply because an effective SEO strategy has become a something so essential. These days, SEO is often integrated with the discipline of Content Marketing.
MC: I would say that a good CMS (Content Management System) supporting our website is the key tool to ensure great content, great branding and the capacity to deliver tailored content as guests are expecting that we know them better and that we use data intelligence to deliver customized journeys.
In terms of SEO, I believe it continues to be very relevant, but it has had a big transformation as it is becoming more and more technical as now speed is crucial for both website and mobile, mobile first strategies and Google structured data or Schema. Additionally, this also means that we need to start investing more and more time in optimizing other channels outside of your website like YouTube, Google Images and all other social channels as this is probably the future once Google moves to Google zero.
Tom: Thanks to the new web era, we no longer need to download a lot of bulky software into our computers today. There are plenty of web programs that help us in many business aspects. As a digital marketer, I recommend the below tools because they are free, easy to access and can help us generate new ideas:
Google Trends: A tool that many people have not used to its full potential. With Google trends, you can identify seasonal trends for your seasonal content, you can find trending topics and avoid falling topics. You can find new keyword ideas and learn about competitors through the related queries function. This tool also helps you see cities, regions or markets that have demand for what you offer.
Google Keyword Planner: This is a must use statistics tool to actually let you see the demand from your targeted markets, to identify what kind of keywords you can promote and how you can build a search campaign.
Hootsuite: Besides a social tool to help you monitor and schedule your social posts, it can help you discover new content from the cloud so you can keep your ideas running which you can share or repost.
SEO has changed significantly with the rise of social platforms and is still alive in today's age. It evolved from a set of tricks and technical implementation into a larger field, known as content marketing which asks for more authenticity, freshness and quality.
How does programmatic media reshape the digital media today?
BK: Programmatic media has been reshaping digital media for the past few years and today as it allows businesses a more targeted and personalized method of promotion. In some instances it has driven down the cost of marketing but in other more popular or high in demand instances it's constantly driving up and getting more expensive to do so
In saying that, anything that allows businesses to specifically allocate their budget to targeted markets, demographics and potential or existing customers versus previous situations where more of a scatter-gun approach was taken.
Retargeting for example was a massive game changer and this sort of data driven programmatic marketing options will only increase when you consider the expanses of data being collected, especially by the big four (Apple, Amazon, Facebook, Google)
CF: Programmatic media buys are great for both online publishers and marketers. Gone are the days of contract negotiation and sales pitches. These days, it's more akin to a stock exchange platform where decisions are made based on real-time insights. Gone too are the days of "run of site" banners.
Programmatic media platforms provide targeting options where we can effectively deliver relevant content to relevant audiences. One of the best parts about these platforms is the tracking functionality which allows us to truly zero in on our specific campaign objectives and aims.
MC: It has completely transformed the framework as it allows for much more optimized spending as you can be more effective with your campaign rather than just doing the shotgun approach using the classical GDN. Also, as AI and data analytics gets better programmatic is improving significantly the targeting of platforms that perform rather than just wasting your money in a platform with no performance.
Tom: Programmatic advertising has opened up a new era in marketing. Marketers can now move from buying placements to buying audience which makes a lot more sense now. With programmatic real time bidding platforms, and with many ways to access and target audience data, we can now target audience that are relevant to the brand, we can target audience that have related interest or intention. For marketers, the fundamental shift from traditional advertising to programmatic advertising is from the focus on cost to the focus on value. That means you can now focus on success instead of cost. In the old days, advertising meant you relied on the buying power of your media partners and in most cases, it required cost negotiation. In the programmatic ecosystem, you are usually not dealing with publishers directly, you can buy ad inventory at a very low cost, the fact that you can segment your campaigns into different strategies allow you to see what works and what doesn't. This is the base to effective campaign optimization.
What do successful brands focus on the most in the digital sphere?
BK: Quality and creative content and imagery;
Clear strategy and direction;
Constant evolution ;
(Being) leading (Early Adopters) rather than following;
Staying true to their brand and making strong decisions on when a new platform, technology or channel won't be brand aligned… if they can't do it well, they don't do it;
Combination and usage of multiple platforms and channels video, social media, website, App (or native app);
Be able to measure and track return on investment effectively using digital tools;
Solid understanding of digital marketing analytics for each of the marketing channels used, e.g. Google analytics, email, social media, online PR etc… and use these findings for realignment/constant review;
CF: The most successful brands ensure that they are present on all digital touch points, embrace the diversity and strengths of all the key platforms, and also work hard at remarketing to move previously unconverted traffic across the finish line.
As an example, a successful brand might generate awareness with YouTube video ads, use programmatic displays to entice audiences as they are in the consideration stage, progress with tantalising offers on Facebook and via EDMs, in order to achieve a successful transaction. Before, during and after the stay, the brand would then continue to engage with the guest via social media by offering destination tips, providing assistance and even encouraging the guest to share their moments online and post a review.
This is what a 360 approach to digital marketing and engagement looks like.
MC: They focus on giving a simplified experience with many psychological triggers of conversion in their booking engines and having a really good control of their alternative distribution systems. Furthermore they also focus on giving a great mobile and app experience as more and more are moving into mobile only methodology.
Tom: In recent years, we have seen the fall of many giants. Digital technology means fast moving, fast learning and fast response. The successful brands that we see are those who act fast to claim their sector. No brand can win the entire market today, in fact successful brands have found their own sector to grow and connect with the world, including other brands. These brands are willing to experiment, learn, test, and collect data to understand the effect of technological changes and improve themselves. They are also focusing on the future by using and keeping up to date with the latest digital technologies and products