Accor has just launched its new loyalty program, ALL, and has pledged to spend $255 million on it. This closely follows Marriott's rebranding of its program as 'Marriott Bonvoy'. The hotel industry undoubtedly loves its loyalty programs, but are they really the solution to faster business growth? Research by Byron Sharp, Professor of Marketing Science at the University of South Australia, and an expert on customer loyalty, suggests they could be a big waste of time and money.
In his book, "How Brands Grow", Sharp explains that, theoretically, companies have two ways in which they can grow. They can grow via market penetration (gaining new customers) or they can grow via increasing customer loyalty (encouraging existing customers to buy a product more often). This is somewhat self-evident. However, what Sharp goes on to illustrate in his book is that, despite the popularity of focusing on customer loyalty, business growth is mainly driven by increasing market penetration and attracting new customers who will occasionally buy from you, and that greater customer loyalty, in fact, comes mostly just from the brand being larger rather than through greater customer loyalty efforts.
It is commonly stated that:
increasing customer loyalty by 5% can increase profits by up to 95%;
it costs five times as much to win a new customer as it does to retain an existing one; and
that businesses earn 80% of their sales/profits from the 20% of their most loyal or biggest customers.
Sharp, however, shows that these beliefs are just myths with no evidence to actually back them up.
In his book, Sharp shares figures for Australian banks and the British automotive market.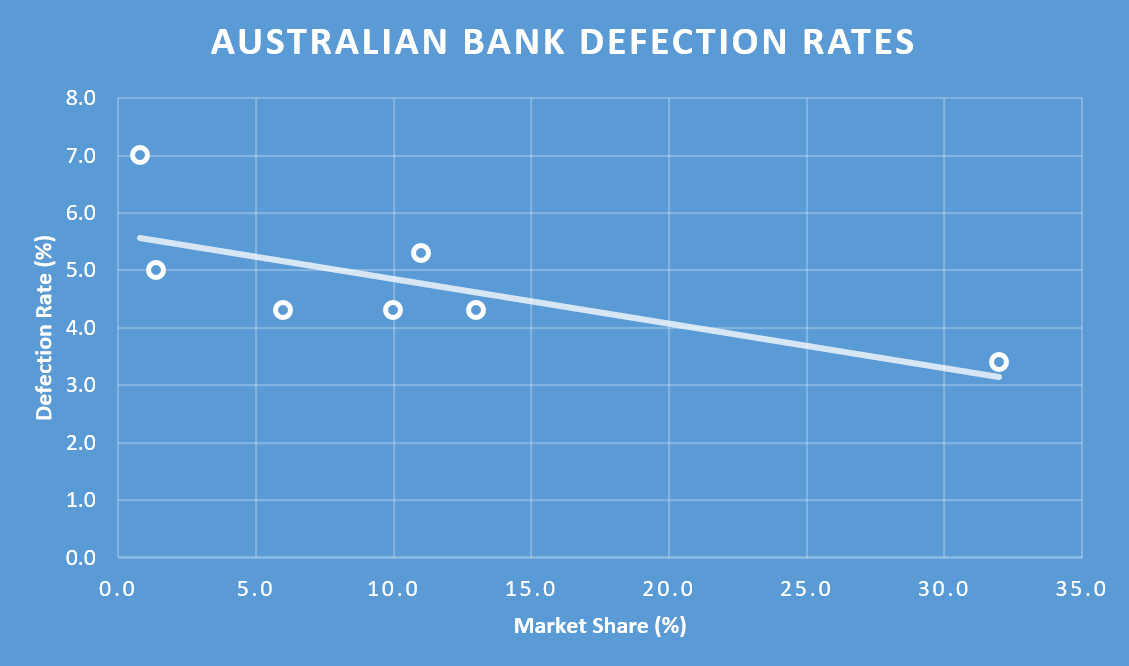 As can be seen from the data, as a brand's market share increases, defections decrease. This pattern is repeated in the case of the UK automotive market.
Sharp presents numerous other examples in his book. However, our question though is, does this theory apply to the hotel industry? Unfortunately, we don't have easy access to loyalty levels for different hotel brands. However, what data is fairly easily available is the number of rooms managed by various brands (representing a reasonable proxy for brand size) and the number of loyalty program members (a proxy for brand loyalty). The data presents a fairly clear picture.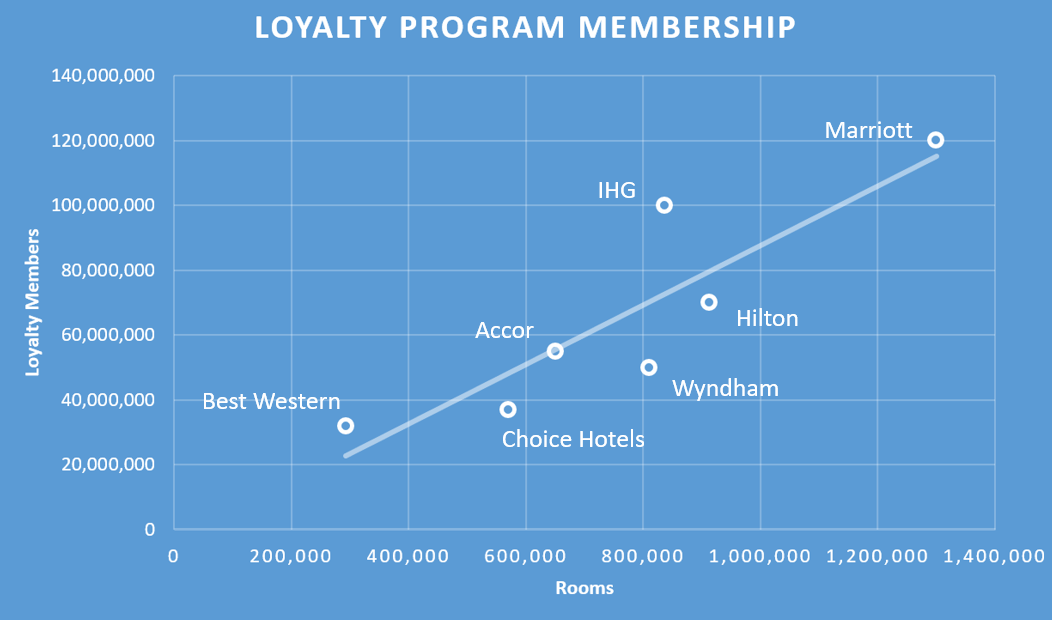 As can be seen, there is a clear connection between the number of rooms a brand has and the number of loyalty members it has. This is not particularly surprising. If you are picking a loyalty program, you will want to gain maximum benefit from it and therefore choose the one where you can use it most often. While some do, most travelers do not travel to the same places repeatedly. Therefore, a larger hotel brand with more properties in a greater variety of locations will be the obvious target for which loyalty program to be a member of.
Based on the limit data that is available on the proportion of room nights that are booked from loyalty members, we can see a somewhat similar result: the larger the brand, the greater the proportion of rooms nights that come from loyalty members.

While this data is far from perfect, it seems to show that hotel brands experience greater loyalty mainly through simply being larger. What we now have is an issue of causality. Does being a larger hotel mean you gain greater loyalty? Or, do hotels grow larger due to their greater loyalty? While both are possible, the simple question is, is it easier to grow through increasing the loyalty of existing guests or through gaining new ones? If we look at the entire travel market, each brand only has a small share. The majority of potential guests exist outside of a hotel's pool of existing guests. Which is easier? Convince one guest to stay with you five times in a year or find five separate guests and convince them to stay with you just once? Sharp highlights in "How Brands Grow" that in practically every market you look at, high-frequency customers are in a very small minority and that the vast vast majority of customers are very light buyers.
Further evidence against the effectiveness of investing in loyalty programs is provided by a study by Deloitte, where it was concluded that:
"The best-case scenario is that hotel loyalty programs as they are constituted today have either little or no impact on travelers' purchase decisions, and, worst case, these programs drive undesirable brand-switching behavior"
They found that, of hotel loyalty program members, nearly 50% of a traveler's annual hotel spend is with brands that are not their preferred brand and that a third are at any one time at risk of switching their preferred hotel brand. Many travelers were also members of more than one loyalty program (hardly true loyalty then), and this was especially so for those that travel the most. It was found that past customer experience was considered as the most important factor in deciding where to stay. Having a loyalty program was just a base requirement, but not a major deciding factor.
So, while hoteliers may all dream of growing their revenue through attracting large numbers of high-frequency guests, it looks like that loyalty programs are not the most effective way to do grow revenues and that the focus really should be on improving the guest experience and attracting large numbers of new guests through effective marketing.
References:
1.Harvard Business Review, 2014, The Value of Keeping the Right Customers, https://hbr.org/2014/10/the-value-of-keeping-the-right-customers
2.Harvard Business Review, 2014, The Value of Keeping the Right Customers, https://hbr.org/2014/10/the-value-of-keeping-the-right-customers
3. Forbes, 2014, Pareto Principle: How To Use It To Dramatically Grow Your Business, https://www.forbes.com/sites/davelavinsky/2014/01/20/pareto-principle-how-to-use-it-to-dramatically-grow-your-business/#731e22df3901
4. Marriott https://marriott.gcs-web.com/news-releases/news-release-details/marriott-international-sets-new-record-growth-2018-fueling
IHG
https://www.ihgplc.com/news-and-media/news-releases/2019/preliminary-results-for-the-year-to-31-december-2018
https://www.ihgplc.com/news-and-media/news-releases/2018/ihg-rewards-club-celebrates-loyal-members-with-its-biggest-thank-you-yet
https://www.ihgplc.com/news-and-media/news-releases/2019/preliminary-results-for-the-year-to-31-december-2018
Best Western
https://www.bestwestern.com/en_US/about/press-media/2018-press-release/bwr-thirtieth-anniversary.html
Choice Hotels
http://media.choicehotels.com/2018-09-13-Choice-Hotels-Loyalty-Program-Brings-Back-Popular-Promotion
http://investor.choicehotels.com/investor-home
Wyndham
http://www2.wyndhamdestinations.com/news-media/press-releases/wyndham-rewards-surpasses-50-million-member-mark
https://corporate.wyndhamhotels.com/news-releases/wyndham-hotels-resorts-reports-fourth-quarter-and-full-year-2018-results/
Hyatt
https://www.businesswire.com/news/home/20190215005345/en/New-World-Hyatt-Global-Promotion-Offers-Opportunities
https://newsroom.hyatt.com/2018_q4_results
Hilton
https://newsroom.hilton.com/hiltonhonors/news/hilton-honors-delivers-even-more-to-its-members-in-2018-with-industryleading-earn-rates-and-new-benefits-
https://newsroom.hilton.com/corporate/news/hilton-reports-fourth-quarter-and-full-year-results-exceeds-net-income-adjusted-ebitda-and-net-unit-growth-expectations
Accor
https://skift.com/2019/02/21/accor-rebrands-and-launches-a-new-loyalty-program/
https://www.accorhotels.group/en/group/who-we-are/accorhotels-in-brief
5. Skift, 2019, https://skift.com/2019/02/21/accor-rebrands-and-launches-a-new-loyalty-program/
6. Skift, 2019, https://skift.com/2019/02/21/accor-rebrands-and-launches-a-new-loyalty-program/
7. Deloitte, https://www2.deloitte.com/us/en/pages/consumer-business/articles/a-restoration-in-hotel-loyalty-hotels-loyalty.html