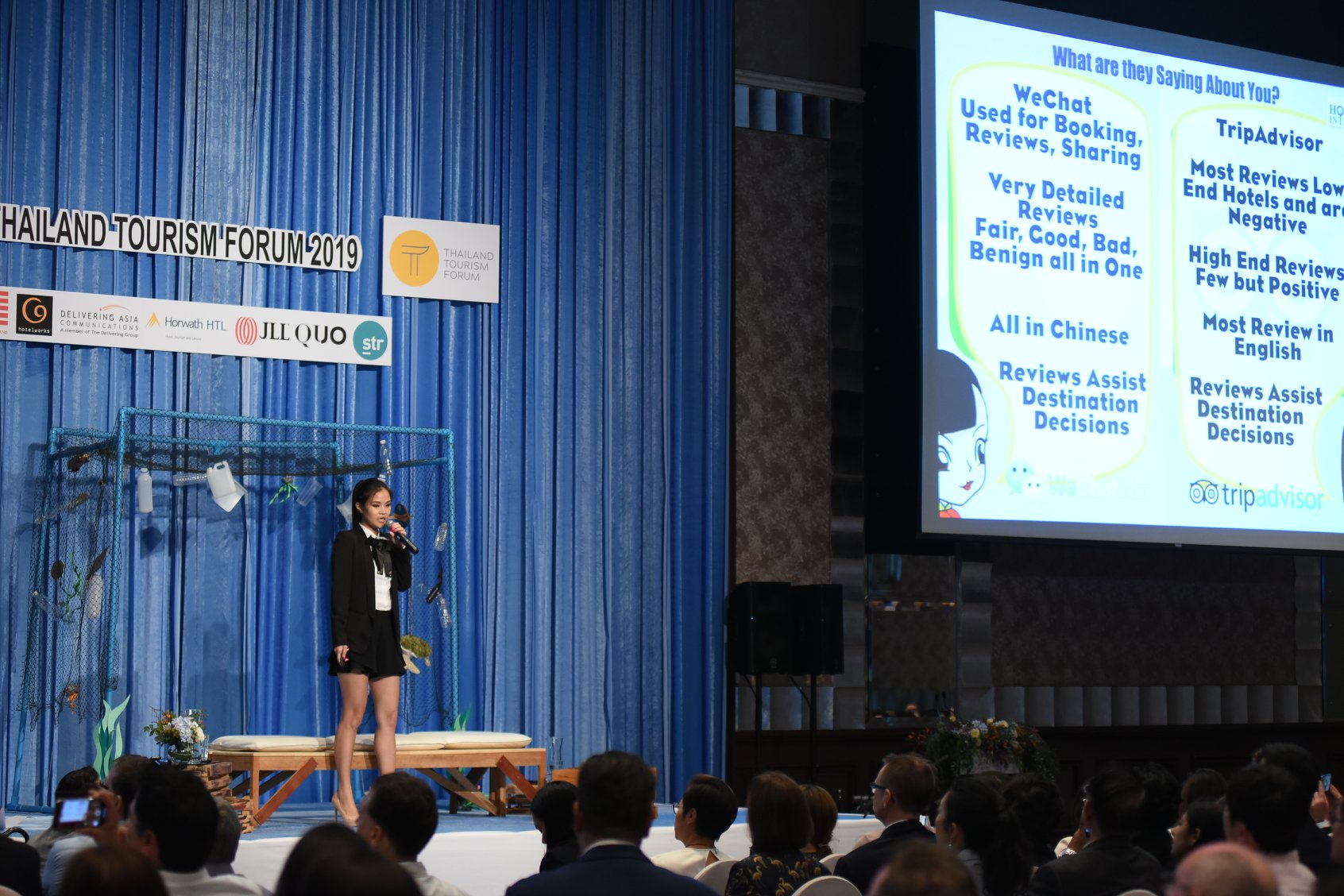 For the third year running, I had the honour of being invited to be one of the speakers at the Thailand Tourism Forum, 2019 which was organised by Thailand's American Chamber of Commerce (AMCHAM) and Bill Barnett of C9 Hotelworks. The topic that was requested this year - 'CHINDIAN Tourists - Same Same or Different?'. While the term 'Chindian' is sometimes used to refer to people of mixed Chinese and Indian descent, in this case it's just a shorthand way to refer to tourists coming from either China or India. It was a fascinating topic to research, looking to answer questions like 'How they are important to us and our industry?', 'What are the risks and benefits of each group?' and 'What are the key issues that are important to each of these groups? - are they fundamentally different?'.
Why China Vs. India?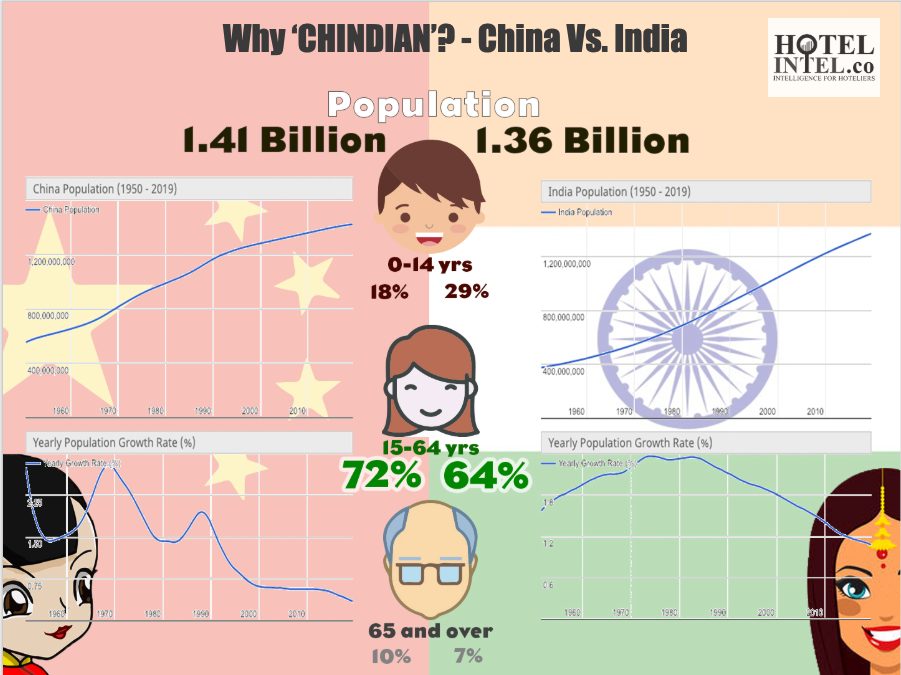 Why compare China and India? For one, their populations are very similar and both have had a similar population growth history and now, are experiencing a decline in their growth rate. There are 1.41 billion people in China and 1.36 billion in India. When you break it down even further, the key number here is that for the 15-64 year old age group, for both China and India, the percentages are 72% and 64% respectively which is enormous and it is these people who will be doing most of the traveling and spending.
Over 300 Million Chinese and Indian Passport Holders by 2020
By 2020, there will be 240 million passport holders from China, and approximately 73 million passport holders from India. Most Chinese travelers will be traveling for business and leisure. Indian travelers are slightly different, whilte still having high rates of tourism based travel, there are also many Indians traveling abroad for employment, as well as visiting friends and relatives. In fact 'VFR' or 'Visiting Friends and Relatives' is actually an official category known amongst Indians used to categorise their own travel. VFR travelers don't tend to stay in hotels as much and will usually stay at their friends and relatives homes and spend less money.
Chinese Group Tours on the Decrease - F.I.T. Numbers Up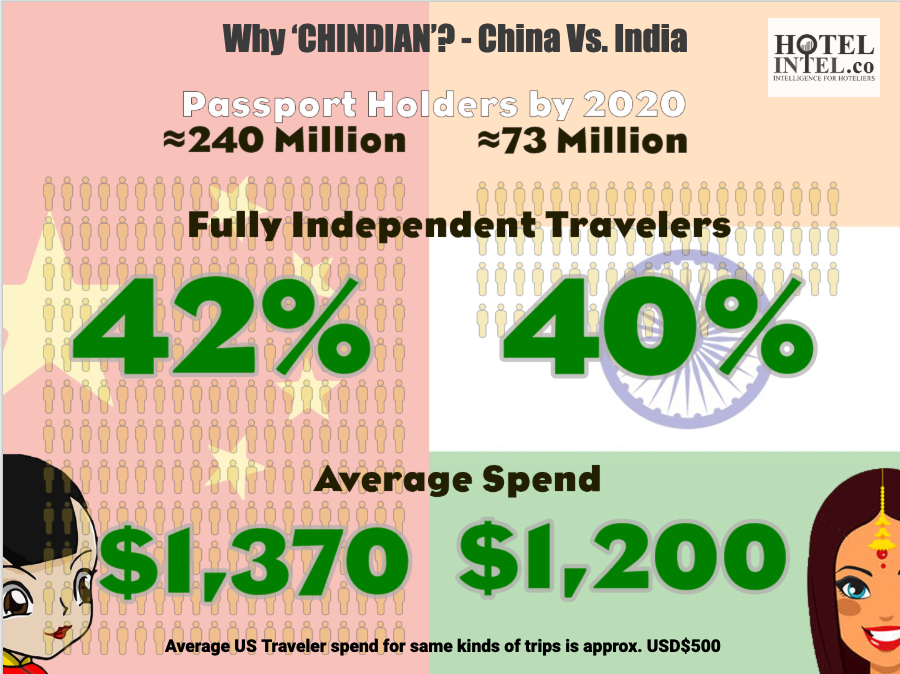 Group travel in the past has been the predominant vehicle for outbound travel for both Chinese and Indians. These figures are changing though, with Chinese Fully Independent Travellers (FIT) reaching 42% - and some research even giving numbers over 50%. Whether for business on MICE trips, or with family and friends, Indians tend to travel in groups in some form or another. Approximately 60% of Indian outbound travel is done in some kind of group and this figure hasn't seen much change. It is because of this that there is an importance of having rooms on the same floor where possible, and when with family and friends, interconnecting rooms are often a must.
The average spend for both Chinese and Indians is almost triple that of American tourists who are staying for the same length of time (3 day holiday). Chinese are reported to spend on average around USD$1370 while Indians are spending about USD$1200. This is outside of their spend on accomodation - these figures are what they spend on shopping and other activities.
Thailand #1 Outbound 'Foreign' Destination for Both Indians and Chinese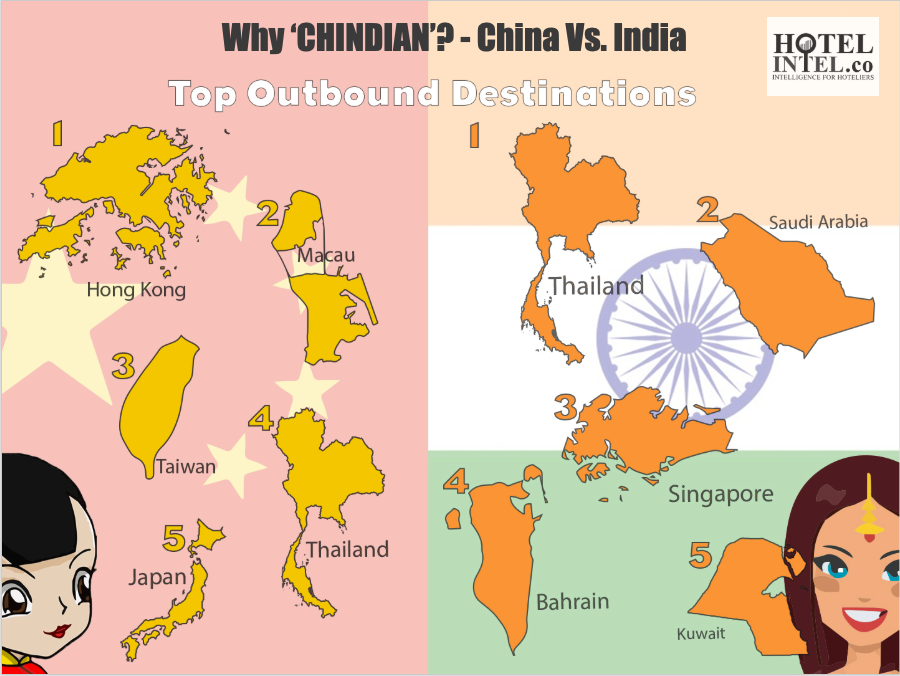 While Thailand was the number one outright foreign destination for Indians, China ranked Hong Kong, Macau and Taiwan as the top outbound tourist destinations with Thailand coming in at number four. That means, when it comes to tourists from both India and China, Thailand is actually the number one destination that would be considered a 'foreign' destination to both of them as for Chinese, Hong Kong, Taiwan and Macau would be considered to still be in the 'China-sphere'. The most popular places in Thailand for both are Bangkok, Chiang Mai, Pattaya and Phuket. Chiang Mai has a particularly special spot in Chinese hearts after one famous 2012 Chinese film - 'Lost in Thailand' or '泰囧 Tài jiǒng' which is often referred to as a Chinese version of 'The Hangover', set in Chiang Mai.
2018 Arrivals - More Chinese than All of ASEAN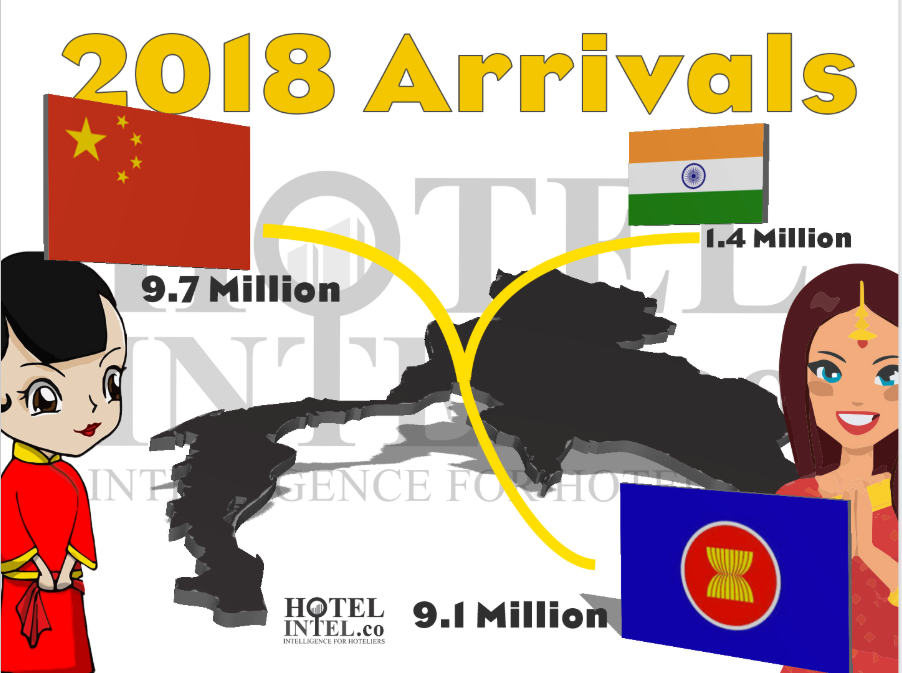 In 2018, there were more Chinese arriving in Thailand (9.7 Million) than from all ASEAN countries combined (9.1 Million). The number of Indians increased too with 1.4 Million arriving in 2018.
What Are They Saying About You?
In order to gauge what Chinese and Indians liked and disliked, we examined thousands of reviews. For the Indians, most reviews came from Trip Advisor and we found that Indians seem to leave reviews mainly when they are unhappy. Most reviews from Indians were made by people staying at lower end hotels. For those Indian reviews we found for higher end / luxury hotels, the reviews were generally positive.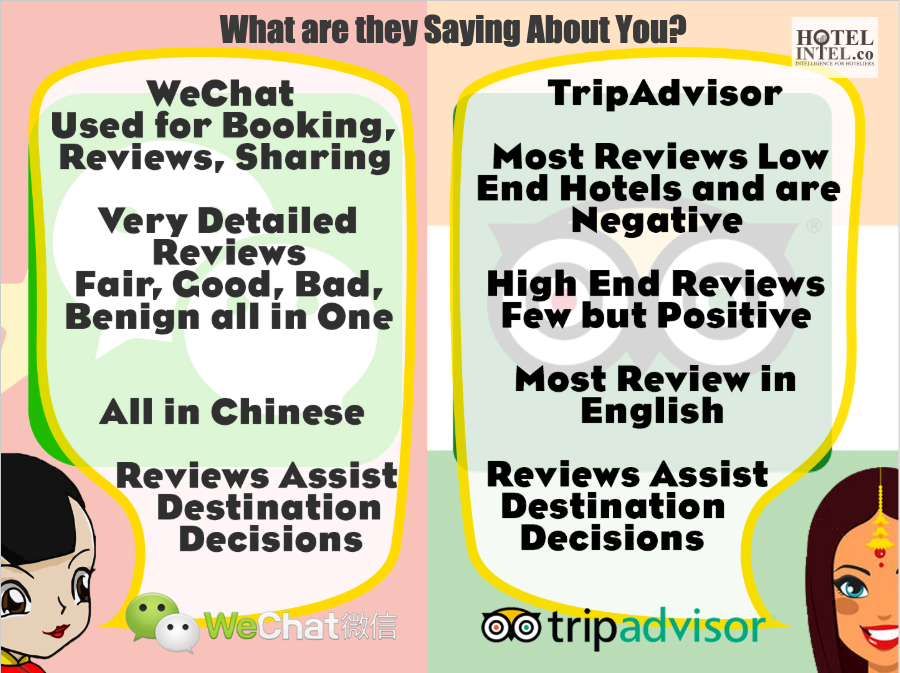 We found that Chinese reviews seem to be balanced and fair. On the whole, they were medium to long in length, and very detailed, stating the good, the bad and the ugly all in one review. Chinese reviewers give earnest scores for six key areas - Price, Location, Service, Hygiene, Quality of Sleep and Comfort, and many reviews will give details of all six of these. Chinese travelers use Wechat or Ctrip for their reviews, research and booking. Despite a large portion of many hotels' markets using these platforms to book and discuss, many Thai hotels are yet to even access these resources. We have seen many hotels in Bangkok with thousands of reviews and entire quite emotive discussions threads about certain properties, yet there have been no responses from the actual hotels themselves as you might regularly find in sites like Trip Advisor. These could be missed opportunities for hotels - responding to both negative and positive reviews and comments about their properties. These reviews are certainly influencing travelers decisions about where to stay and spend their money. The only caveat is, that responses of course have to be in Chinese.
A Whirlwind Tour of WeChat Hotel Reviews
WeChat isn't just an app the Chinese use to communicate with one another; rather it is a something that fascilitates their whole existence. If you're serious about the Chinese market - and in particular higher spending FIT market, you need to have the capacity to keep on top of WeChat.
(If you would like to know more about how your hotel is doing in WeChat and how you can better engage that market in Chinese, contact us - info@hotelintel.co)
Do you Know Your Hotel's Name in Chinese?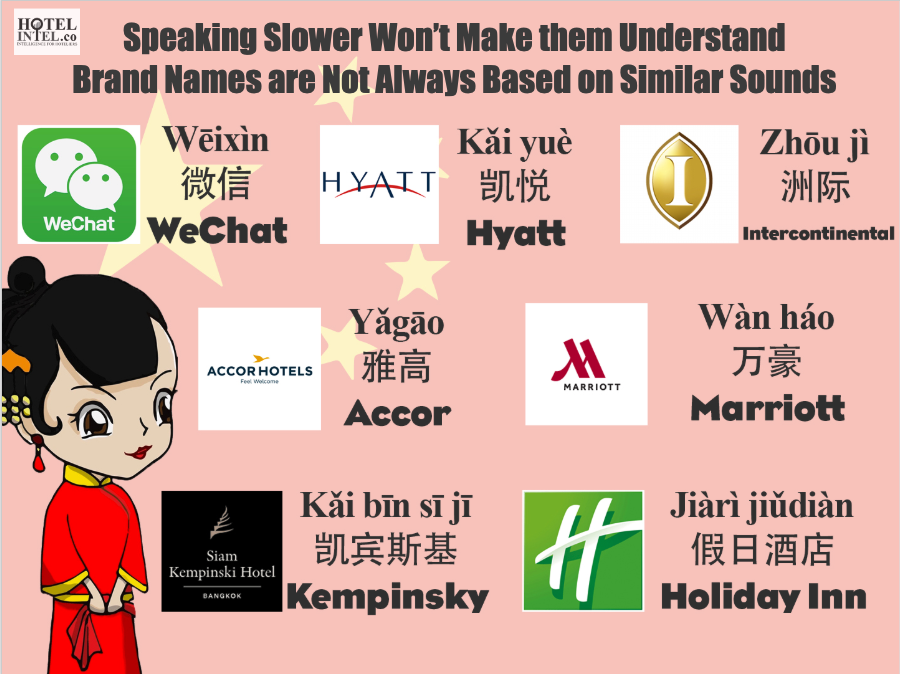 When it comes to knowing your stuff, getting your own hotel name right for the Chinese should be mandatory. There were some instances where guests had commented that they were sent away from the hotel they had booked as the name in Chinese for a given hotel is quite different from the name in English. For example; Intercontinental hotel isn't called In-Ter-Con-ti-nent-tal … no matter how slow you say it, your Chinese guests would not understand you because it is called 洲际 Zhōujì The Marriott is called 万豪 Wànháo, Accor is 雅高 Yǎgāo, Hyatt is 凯悦 Kǎi yuè, and even Wechat isn't called 'Wechat'. If someone was asking you if you accepted 'Wechat Pay' or whether or not you had Wechat, the Chinese call it 微信 Wēixìn in Mandarin.
Top Issues - China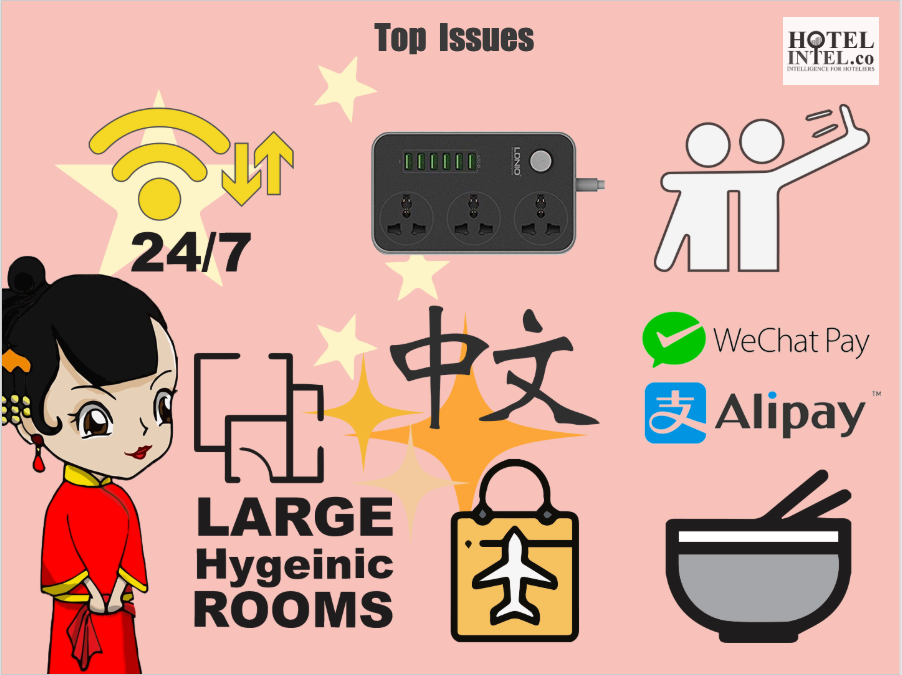 The key issues that Chinese travelers discussed regarding their travels to Thailand are: Internet connection - Hotels don't offer free and fast wifi. Chinese travelers live on their WeChat so if they don't have an internet to access you basically cripple them. Access to the internet shouldn't be complicated either and shouldn't time out - preferably no recurring login page. Also, they have found that universal plugs are not provided in many hotels and charging points were not in convenient positions in many hotel roosms (i.e. by the bed on both sides). They love taking pictures (selfies), so things need to be 'photo friendly'. I was at Club Med Tamamu, Japan last year and the hotel even went to the extent of marking all of the good spots for taking good photos around the property. This was surprisingly helpful and I'm sure if hotels in Thailand did something like this, it would be appreciated by photo-clicking tourists.
The Chinese also love shopping. If hotels could offer them some sort of shopping experience and assistance expediting getting their VAT refund at the airport counter, or connectivity with shopping malls, it would be a plus for them. We suspect it is for this reason that the King Power Pullman Hotel which is associated with the famous King Power Duty Free stores, had over 8000 reviews on WeChat. Anything that fascilicates shopping, sales and getting cash back is going to be a plus.
Bangkok is Getting a 'China Friendly' Overhaul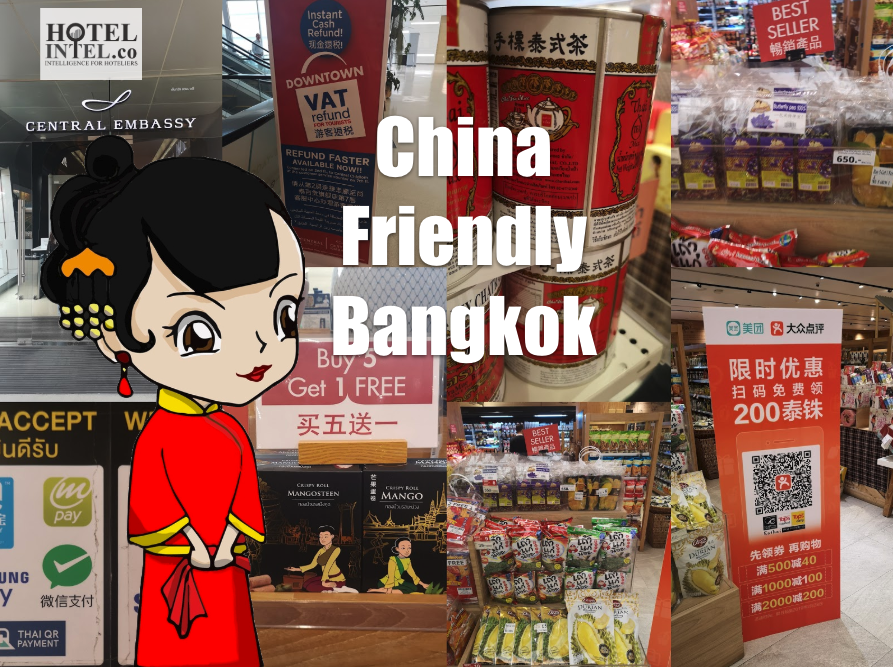 Chinese language was a big issue - there is a need for Chinese speaking service staff to be on hand, and it also helps to have signage and menus in Chinese. Bangkok has come a long way in regard to making the city China friendly as can be seen in the above image.
On the topic of menus, Chinese food is also important - not your General Cho's Chicken Chinese, or even 'Thai-i-fied' Chinese food. After the novelty of foreign food, Chinese will want to taste something that feels like home on the palate.
Top Issues - India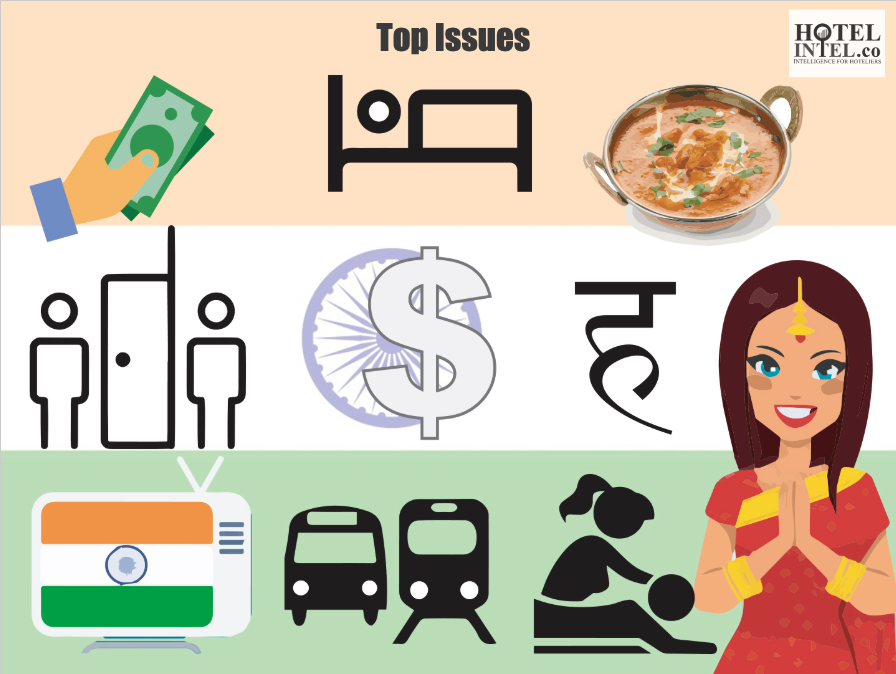 The most important issues for Indian travellers that we found seemed to revolve in one way or another around money and food. A lot of Indian travelers use debit cards rather than credit cards, so when hotels ask for assurity, they are actually having cash taken out of their bank accounts back home and even though the hotels release the funds upon checkout (in most cases), the Indian banks may take several months in depositing those funds back in their accounts. There were some instances where the money never arrived back in their accounts. This is money being locked away that could have been spent during their holiday. To solve this, some hotels that target Indian guests rather than take a card imprint, will ask for a 1,000 baht note as assurity, while other hotels will not require it all together, rather just lock the mini-bar or don't fill the mini-bar - or if they are up with the times, stock their mini-bar with a decent selection of snacks and beverages and absorb it into the cost of the room, giving the feeling of a 'free minibar'. Everybody loves a free minibar and this will definitely be a hit with the guests (if you had to choose one of the three - go for 'free'.
Haggling is part of the Indian psyche, and Indians need to feel like they are 'beating' the system and getting a good deal (much to the disdain of Thai vendors). Whether it's massage (which they seem to be fond of), trinkets, jewelry, souvenirs or food - they will try and bargain.
Some have mentioned that they were dissapointed that there were no Hindi speakers. On the other hand, India has 22 official languages and not everyone speaks Hindi, so where would you draw the line? Many Indians would say that they're native English speakers anyway, so the language issue may not be as important to them as for the Chinese. The fact that these comments existed however is a good reminder that there are indeed travelers with very low levels of English - and may certainly have difficulty understanding Tinglish (Thai English).
Some Indians have mentioned that they want to have a selection of Indian TV channels like ZeeTV, and were surprised that hotels that cater to predominantly indian guests have such few entertainment options Indians.
Food is important. Some hotels say they have Indian food, but the food is slammed in Indian reviews, with reviewers saying that it is nothing like authentic Indian food and that they wouldn't waste their money or time eating it. If you're going to do Indian food, do it properly or don't do it at all. Your Swiss head chef probably isn't going to be the best judge of authenticity. Try it out on some real Indians and be ready for their honest feedback.
Thai Racism Against Chinese and Indian Guests
Sadly, the most important problem both groups have while in Thailand is Thai staff look down on them. They know it and they feel it. Just because they didn't react to the rudeness doesn't the problem wasn't there.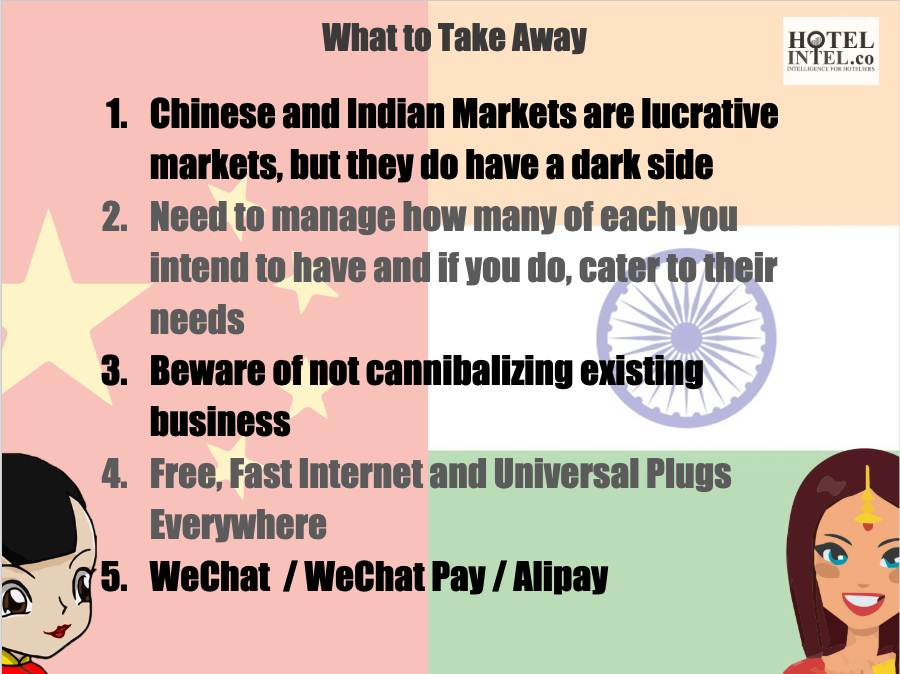 We are not telling you which group you should take or which is better - weigh your risks and benefits wisely. If you do want to reap benefits from these two groups, you need to cater to their needs.