Hotels around the world have realised how lucrative the Chinese market can be for them, and have outwardly stated that they want to target Chinese guests in their marketing plans. Despite this, when you delve a little deeper to examine their marketing plans to target this lucrative market, it fast becomes apparent that hotel marketing departments outside of China are for the most, clueless as to how to really reach and connect with the Chinese guests that they want and need.
Here are 6 essential things you need to know if you're a hotel marketing to China:
1. Chinese Travellers will Generally Book via Chinese OTAs
How do Chinese travellers find out about your hotel?  Chances are that it is via one of the main OTA's like CTrip (携程) or Meituan (美团).  These booking engines extend their API's into apps like WeChat (微信), so even though you as a property may have an official account on WeChat, ultimately, although trips might well be booked within WeChat, it will be somewhere where comparisons can be seen and the best deals can be had. That means via one of the main OTA's infrastructure.
2. Weibo (微博) has Passed its Heyday
Many westerners who have had digital experience in China have no doubt realised the importance of Weibo.  Things move fast in China however, and these days, people only tend to use Weibo for reading the news and following celebrities. Wechat is still arguably the most important platform, however as a hotel outside of China, it's not so easy to successfully promote your property on Wechat, especially if you are just a smaller property or you have a limited budget, as attracting the mass of followers that you'll need from scratch is not easy and invariably costs a lot of money. Relying on solely Wechat growth will be a slow and expensive venture.
3. Douyin (抖音 - TikTok) and Little Red Book (小红书) Are 'In'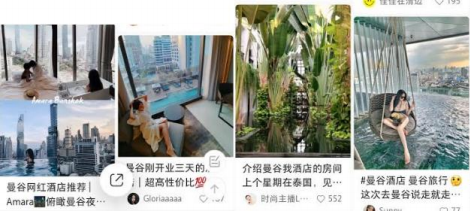 While TikTok has made its mark on the Western social media scene, mainland China knows TikTok as 'Douyin' and have been using it for years. With cross-over ground with Instagram in the west, from a marketing perspective, as a hotel, you would use both Douyin and Little Red Book to show off stunning photos of your hotel or nearby views. Chinese tourists love to show their holiday pics off to their family and friends back home on these platforms, so planning both pre-trip, during trip and post-trip activities around these apps is a wise thing to do. You can try your hand at creating a viral trend that puts your property centre stage utilising these platforms, making sure that you get the attention you need from future guests.
It's important to note that the versions of TikTok (Douyin) and Little Red Book used in China are completely different platforms to the ones that are subscribed to outside of China.  That means that in order to access the Chinese market, you will need to have internal Chinese accounts, and of course, you'll want it to be using the Chinese language.
4. You Need a Comprehensive, Time-phased Plan
One mistake that many western companies do when trying to market to mainland China is not having a long term plan, and putting all their eggs in one basket.
If you want to be successful, you can't just rely on KOL's - Key Opinion Leaders / influencers which are known in China as '网红 - Wang Hong', or solely marketing on WeChat.  Chinese travellers are very tech-savvy and will look for congruence and consistency in the marketing of a property across all platforms - bloggers, KOL's, Baidu SEO, Red SEO and other platforms. You don't just want to have them see some beautiful pics of your property in one post, but then not being able to be found anywhere else.  If you're going to market to China, you will need to plan out a year-long calendar and strategically work out what activities, posts, media, promotions and the like, will be published where and when. Digital coordination is an art-form whose importance shouldn't be undervalued.
5. Hotel Restaurant / F&B Outlets and the Dianping (点评) App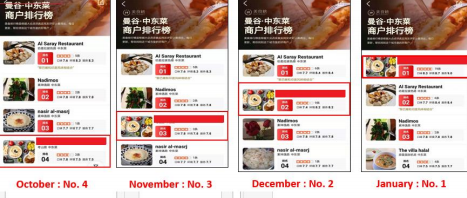 Generally, hotels won't want to just sell their rooms online - F&B outlets are also an important stream and it is that space that Dianping serves. Chinese tourists are willing to pay big bucks if you are in trend!
The good news is that promoting your restaurants to Chinese tourists is quite easy and achievable within an affordable budget using the Dianping App.
The Dianping mobile app is location based, and Chinese tourists will use this app to search for what to eat in whatever country it is to which they are travelling. You'll notice that on all rating app platforms, Chinese reviews are quite detailed and they will cover the good, bad and ugly quite fairly in a single review.  These reviews are essential for building up restaurant credibility and ensuring that you get a constant flow of bookings.
If you are in one of the top ranking outlets within a 5 km radius, Dianping will feature your restaurant for free! This means that as soon as you achieve these rankings, the attention that you start to get from Chinese guests will start to spike significantly. There's actually a trick to becoming No. 1 on Dianping - but we will leave that for another post.
6. Winning Chinese Digital Marketing Tricks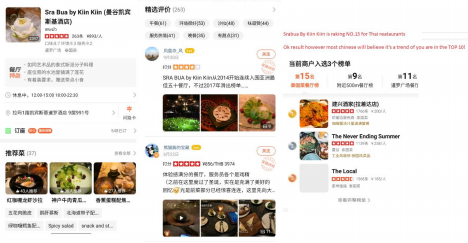 Pair posts on 'trending' platforms Like Little Red Book and Douyin which ensure that Chinese guests see stunning photos of your property or outlets,  with your Dianping score and positive comments to which match the reviews from Little Red Book.
Chinese tourists will be hooked into their tech around the clock and they'll be looking for well-rounded, positive, congruent messages across several platforms from potential places that they might plan to visit.  They will be looking for comments on Dianping, trends on Little Red Book and verifiable experiences from people that they trust.
Article by Thakorn Juntarnupattanar, Millideas